Coffee and Biscotti…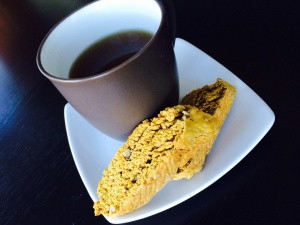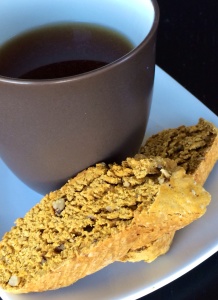 If you are a coffee addict, chances are you are also a cookie dunker. My favorite dunk? Biscotti, of course! So delicious!
In Italy, biscotti are usually served after dinner with wine and are "dunked" in a wine called Vin Santo. Vino Santo, or holy wine, is a dessert wine usually white, but often made into a rosé when using Sangiovese grapes.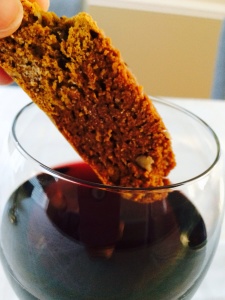 Here is the recipe for the pumpkin spice version of my anise biscotti. I also added honey roasted pecans, but you can totally leave them out!
Pumpkin Spice Biscotti
(Makes 24 biscotti)
Ingredients:
4 cups flour
1 tsp. baking soda
1 tsp. baking powder
1 cup sugar
1-1/2 tbsp. Pumpkin Pie Spice (OR 2tsp. Cinnamon, 2 tsp. ground ginger, 2 tsp. nutmeg, 1 tsp. all spice, 1 tsp. ground cloves)
2 eggs
1-1/2 cup pumpkin
1 tbsp. Vanilla
1/3 cup crushed honey roasted pecans
Directions:
Preheat oven 350 degrees.
Line a baking sheet with parchment paper.
Combine flour, sugar, baking soda, baking powder, and pumpkin pie spice in a large mixing bowl and stir.
Using a whisk, combine pumpkin, eggs, and vanilla.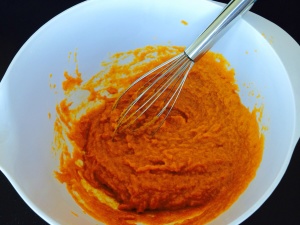 Add wet pumpkin mixture to dry flour mixture.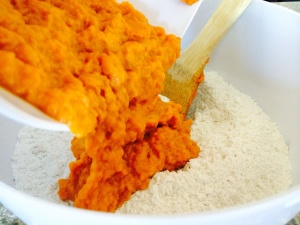 Fold in pecans.
Dough will be dry- No worries! It will be great after kneading.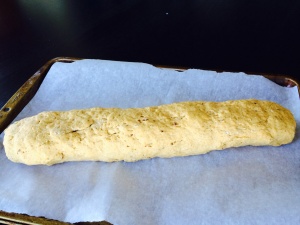 Wash hands and knead dough until a beautiful dough forms.
Form a log that will fit on your baking sheet- the length of your baking sheet and 3-4 inches wide.
Bake 25-35 mins. or until center is firm and the bottom is lightly browned.
Lower the oven temperature to 300 degrees. Let log cool for 10 minutes.
Slice into 1 inch wide pieces with a serrated knife.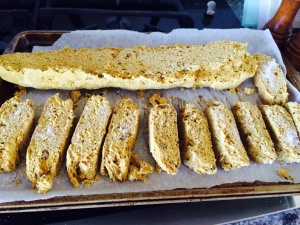 Lay them cut side up and bake 8 -10 mins. on each side or until crisp!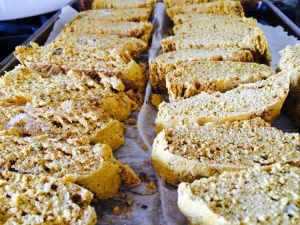 Enjoy!
Ciao!