Antonio Branduzzi must be proud to have the Colangelo family celebrate his legacy by continuing the traditions and recipes of Il Piccolo Forno. As a testament to the late baker's impeccable reputation with colleagues, customers and friends, it was no surprise when Braduzzi's close friends Nicholas and Denese Colangelo decided to carry on the baker's legacy.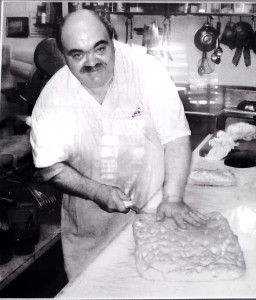 Located adjacent to La Prima Espresso Company and sharing a common walkway, Colangelo's Bakery is a natural spot to grab a pastry or a slice. I found Colangelo's Bakery with my kids, ages 5 and 3. They are the perfect height to spot the square pizza with the tiny pepperoni in the case. We all fell in love with this pizza.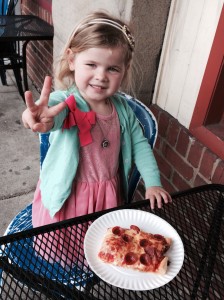 After meeting Denese Colangelo and her son Nicholas, I knew I had to make my kids' favorite pizza and spend some time here- yeah, I already somehow felt like part of the family.
Customers are family in the quaint bakery on 21st street in Pittsburgh's Strip District. I was introduced to many people and saw so many faces light up while ordering their "usuals."

The vibe?
Sit outside at the tables, hover at the pub tables inside, or take it to go!
It was a busy Saturday morning and the fresh pastries lined the sill between the case and the kitchen. My eyes were bugging out of my head when Nicholas Colangelo greeted me and mentioned the pizza we would be making. As I was surrounded by frittata, mele, ricotta pie, Danish, cinnamon sticks…I thought "What?"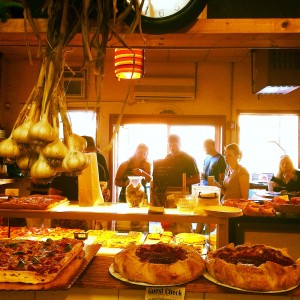 Oh yes! I nearly forgot about the square pizza with the tiny pepperoni.
Nicholas mixed the dough in his super mixer, flattened it in the sheeter, shaped it in the rectangular pan, passed over it with the docker, proofed it…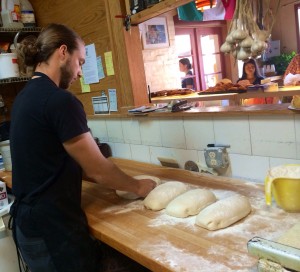 The pizza is then topped with the finest, freshest, local ingredients and baked. Ezzo pepperoni, an old fashioned made pepperoni from Columbus, OH, to Grande mozzarella, Colangelo's Bakery does not cut any corners.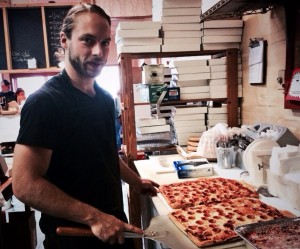 A secret garlic olive oil sauce here, a sprinkle of a secret herb blend dashed there, I knew I would never be able to replicate this one! Oh well, we know where to get it!
Nicholas says the significance of the secret toppings lie in the Colangelo's philosophy, "Add flavor after the best ingredients are used. That is what makes our food so classic and naturally delicious."
As lunch time approached, I was surprised to see the menu items being ordered. Salads, focaccia, Beans and greens? One of my favorites!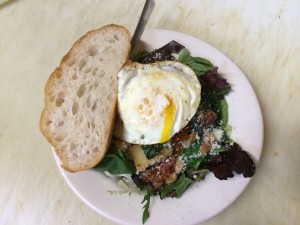 While taste testing…
Denese told me the story of Antonio Branduzzi and his Mele, one of the many original recipes the bakery serves in the great baker's honor. Once the health department questioned the refrigeration of his egg custard Mele, Branduzzi told them, it would be ruined. He made many other delicious Mele fillings after this. They sell so fast it makes no difference. One night in the refrigerator is ok, says Denese.
So since that Saturday morning, I have visited Colangelo's Bakery and had the beans and greens with sausage, the cannoli, the avocado salad, the ricotta pie and much more. The place that was once only the square pizza with the tiny pepperoni is now Colangelo's Bakery. Everything is Delicious. Perfect. Amazing.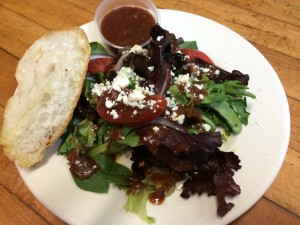 Margherita Pizza
(Inspired by Nicholas at Colangelo's Bakery)
One of the most basic and most delicious pizzas.
To make traditional Margherita pizza,
Cover dough's surface in your favorite sauce, or chunky tomatoes drained,leaving a 1/2 inch border.
Add sliced buffalo mozzarella.
Drizzle olive oil.
Salt and pepper.
Bake at 400 degrees until cheese is melted and bottom is golden brown.
Remove from oven and top with fresh basil.
Enjoy!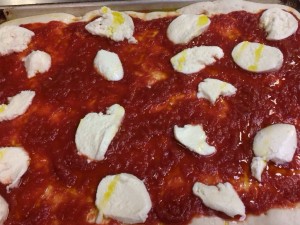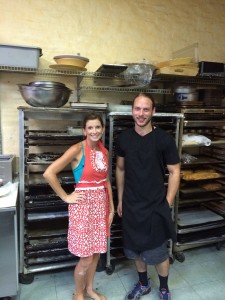 Thank you Colangelo's for having me, allowing me to cook with you, and becoming part of your "family." It is an honor to know and to be able to share Antonio Branduzzi's legacy with others.
Ciao!