Organic, Gluten Free, Paleo, Vegetarian, Pesatarian…Ok, Ok, but does it taste good? The Nomad Cook says, "yes." Traditional recipes meet modern health and wellness in the 1st healthy Venezuelan cookbook.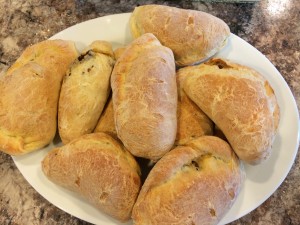 Like most Mediterranean cooking, the overuse of oils containing polyunsaturated fats and refined sugars, have been proven to cause chronic illnesses such as heart disease, coronary artery disease, and diabetes. The Nomad Cook's "Healthy Venezuelan Cooking" suggests healthier alternative ingredients, without sacrificing the delicious traditional tastes.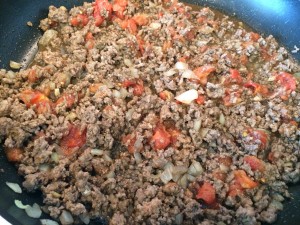 After being asked to review this new cookbook with Nicky D Cooks, food writer, cooking instructor, baker, and foodie friend of mine, we decided to make the same recipe two different ways. An excuse to eat, drink and be merry!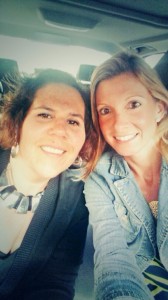 We chose The Nomad Cook's ground beef and tomatoes recipe.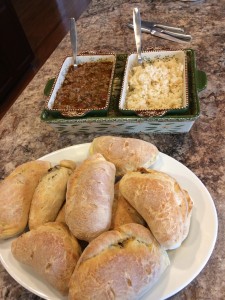 Like many recipes in "Healthy Venezuelan Cooking," the ground beef and tomatoes recipe can be an empanada filling, served with arepas, or simply served over rice. Since I make Sicilian empanadas, I decided to use The Nomad Cook's ground beef and tomatoes recipe as an empanada filling. Nicky D Cooks prepared the dish over a delicious rice pilaf.
Here is the recipe:
Ground Beef and Tomatoes
by The Nomad Cook from "Helathy Venezuelan Cooking"
The Nomad Cook's notes:
"This recipe is a Latin version of the Italian Bolognese sauce. It is used as a filling for arepas, empanadas, and as a main course with rice. The empanada filling should be on the dry side to avoid the empanada from breaking apart while being cooked."
Cooking time 30 minutes- Serves 2 cups
Ingredients:
1 tbsp. extra virgin olive oil
1 onion, chopped
2 garlic cloves, minced
1/2 lb. grass fed ground beef
1 tbsp. organic Worcestershire sauce
1 tsp. ground cumin
iodized salt
1 tsp. oregano
1 organic tomato, chopped
1/2 cup organic beef broth
pinch of tobasco sauce
Directions:
Rinse the ground beef with water in a colander before cooking. Beef will lose somew of its color, turning pinkish. Heat olive oil over medium heat, add the onion and garlic and cook until soft, about 5 minutes.
Lightly brown the ground beef with the onion for 10 min. Add Worcestershire sauce, cumin, salt, and oregano. Stir to combine and add the tomato, beef broth and tobasco. Stir and simmer on medium-high heat until sauce thickens, about 15 more minutes.
Here is my empanada recipe! I did not use the rosemary for these empanadas. A basic pizza/Stromboli dough.
http://www.parmesanprincess.com/2014/03/25/my-nunis-sicilian-empanadas-broccoli-pies-a-quick-and-easy-rosemary-pizza-dough-with-a-broccoli-filling/
Notes from the cooks!
-I used 93/7 ground beef and Nicky used an organic ground beef that was 80/20. Her beef and tomatoes contained more liquid that could easily be strained with a slotted spoon.
– I doubled the recipe but less than doubled the beef broth. I was scared of a runny empanada filling. Nicky quadrupled the recipe with no differences in taste.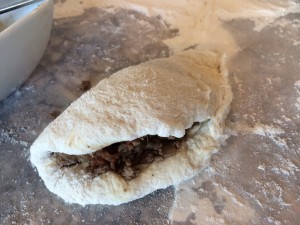 – I used fresh oregano and she used dried. We saw no difference.
The Final taste!
Both recipes were delicious! I would say the majority of the taste testers liked the beef and tomatoes in the empanadas more than over rice.
You can easily add a spicy kick to this recipe by adding more tabasco or Sriracha. (My husband dipped his empanadas in a mound of Sriracha – we are a spicy family!)
I stopped myself from adding shredded cheese!! Oooh this would be so good! Next time!
If you like healthy, delicious, authentic recipes grab this cookbook! Thank you to the Nomad Cook for your contribution to the food world. Your concern for the healthy while keep the delicious is contagious! "Healthy Venezuelan Cooking" is wonderful! Congrats!
Enjoy!
Ciao!
The Nomad Cook's "Healthy Venezuelan Cooking" is available on Amazon!
http://www.amazon.com/gp/aw/d/1500441317/ref=mp_s_a_1_5?qid=1409766303&sr=8-5&pi=AC_SX110_SY165_QL70