London broil is actually the preparation of a cut of meat, not the name of a cut of meat. The definition? To sear a cut of meat and serve medium rare sliced on a diagonal against the grain. The one I bought this week was labeled London Broil Top Round. Thus, the misconception that the cut of meat is london broil.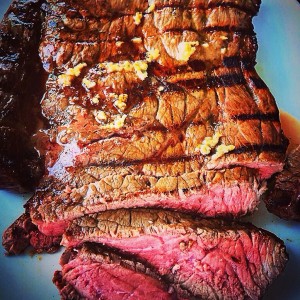 London broiled meat looks beautiful on a plate, and is sure to wow your guests when entertaining. Serve anything from sautéed vegetables to corn on the cob! Anything goes!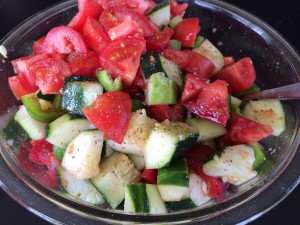 London Broil Tips and tricks:
Thickness:
The meat you choose for london broil should be at least 1-1/2  – 2 inches thick.
Marinade:
The marinade should be a tenderizing marinade just in case the cut of meat is on the tough side.
Cooking:
Giving the meat a london broil requires a high heat broil for approximately 5 minutes on each side to produce the medium rare center. If the heat is too low, or it is cooked for too long, the meat will overcook.
Slicing:
Slice the meat against the grain on a diagonal and serve.
London Broil
Ingredients:
1.5 lb. 1-1/2 – 2 inch top round cut labeled London Broil
1/2 cup Worchesterschire sauce
1/2 cup red wine
3 cloves roasted garlic finely chopped
Salt/pepper
Directions:
Place the fat trimmed meat in a Ziploc bag with all ingredients for 1-3 hours.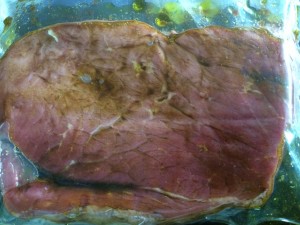 Place meat 3-4 inches under broiler and broil for 5 minutes.
Flip and broil for an additional 5 minutes.
(The same method can be used on a grill. However, the temp must be high 375-400 on the grill and it requires close attetion as to not overcook the meat.)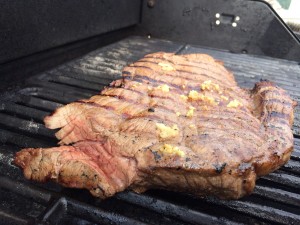 Remove and let the meat sit for 5 minutes.
Slice in a diagonal against the grain.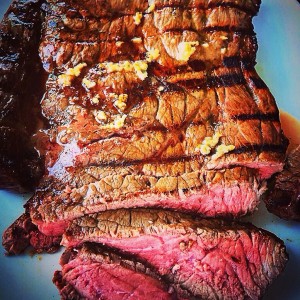 Serve with your favorite sides!
Enjoy!
Ciao!
Reference: From Julia Child's Kitchen 1975 Julia Child