Don't mess with my sauce! For those of us who make homemade pasta sauce, more than likely, we are in agreement about one thing: Our sauce is the best sauce. Whether it's grandma's recipe, Giada's recipe, or from the internet ; ), we take possession and will defend our sauce anyday, anytime. Back up.
Ok, maybe too strong.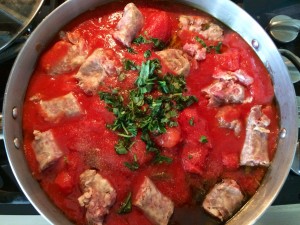 So many different recipes and ingredients all yield a great sauce! From crushed tomatoes, whole tomatoes, and San Marzano tomatoes, to veggies, meat, and spices, there are many different types of sauce and cooking variations.
I get many questions and comments regarding sauce do's and dont's. The latest question is "Should I brown my meat before putting it in the sauce?" Great question!
I don't brown…but there are great reasons for both methods! Ground meatballs, Italian sausage, pork, or ox tail, can all be put directly into the sauce raw as long as you are cooking the sauce until the meat is cooked. I cook my sauce for approximately 4-6 hours.
Here are 5 observations I have made after trying both methods:
1. I love putting my round meatballs into the sauce and having them come out round! I have tried browning meatballs and it caused some kind of cone head problem. My meatballs ended up like triangles.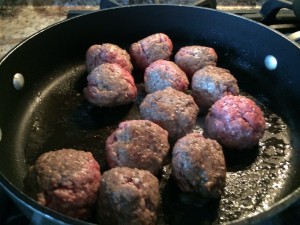 2. Cooking raw meat in the sauce for 4-6 hours creates the yummy tender tiny bites throughout that surprise our palates.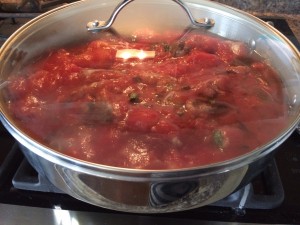 3. The carmelaization during browning will help hold together the meat as it cooks in the sauce.
4. Browning adds flavor and texture to the meat.
5. The fat can be drained after browning. Shhhh! (The fat adds and irreplicable flavor!!)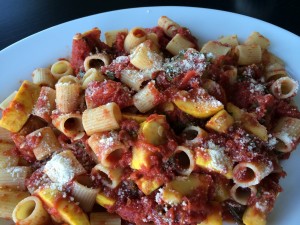 Of course, both methods are great! I encourage you to try them, get creative, and don't forget to add fresh grated Parm!
Own your sauce!
Ciao!