This is the last dish I will be cooking for fish week! It's Luke Wholey's tonight for the fish week grand finale. Cool, right?
I call this dish linguini clams because there is no actual pasta sauce to scoop on top. The linguini soak up the liquid, and the clams, chunks of tomato, pieces of onion, herbs, and grated Parmesan cheese stick to the linguini. In my opinion, this is a perfect linguini clams. Much different than a bowl of pasta with a traditional marinara and added clams.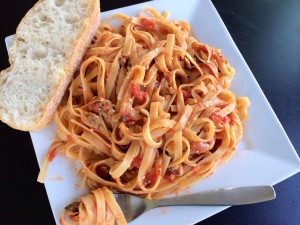 I say no shirt required because we have rookie pasta twirlers that splatter sauce everywhere and eat in their underwear ; )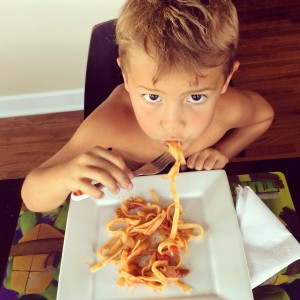 Linguini Clams
Ingredients:
2 tbsp. olive oil
3 cloves of garlic, pressed
1 small onion
1 35oz. can San Marzano tomatoes
1/4 cup chicken broth
1/4 cup dry white wine
1 lb. bag Pana Pesca baby clams
1 tbsp. chopped basil
1 tbsp. chopped rosemary
1 tbsp. chopped thyme
1 lb. linguini noodles (I actually use fettuccine noodles. They are a little thicker than linguini noodles and cook to a perfect al dente bite… Shhh!)
Salt/pepper
Freshly grated parmesan cheese
Directions:
Heat oil in your biggest,deepest pan.
Add onions and sauté until they begin to look translucent.
Add garlic and heat.
Add tomatoes, herbs, chicken stock and mix well.
Meanwhile, bring salted water to a boil in a stockpot for the linguini.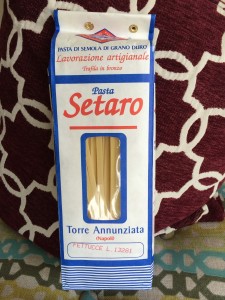 Add linguini and cook according to package or until al dente approximately 7-9 minutes.
Add clams to sauce pan and cook while linguini is boiling. Clams will cook within 10 minutes.
Drain the linguini and add slowly into the sauce pan while mixing well.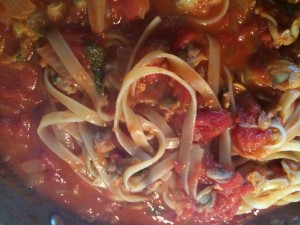 Coat the linguini until your linguini/clam ratio is satisfactory.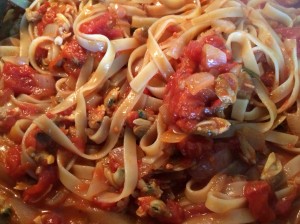 Scoop onto a serving plate.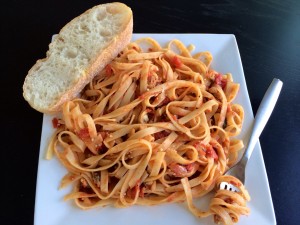 Enjoy!
Ciao!