Sometimes I only have 20 minutes to cook dinner! A quick San Marzano tomato pan sauce mixed with cooked pasta is quick, light, and delicious! In the summertime, I include fresh vegetables and fresh herbs! Here is one of my favorite summertime dishes!
The key to a great tasting quick pan sauce is getting the acidity out of the veggies by tossing them with olive oil and garlic before adding them to the tomatoes.
Simply adding squash and zucchini to the tomatoes creates a sour taste. Follow these simple steps and your simple pan sauce will be transformed into a gourmet dinner!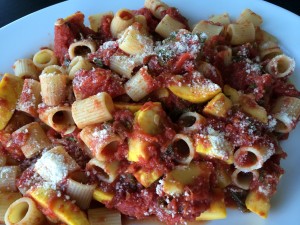 Summer San Marzano Veggie Pasta
Ingredients:
1 yellow squash, chopped into quartered rounds
1 zucchini, chopped into quartered rounds
2 cloves garlic, pressed
2 tbsp. olive oil
1/4 cup chopped kale
2 35 oz. cans San Marzano tomatoes
1 tbsp. fresh chopped basil
1 tbsp. fresh chopped rosemary
Salt/pepper
Freshly grated parmesan cheese
1 lb. of your favorite pasta
Directions:
Heat olive oil in your largest, deepest frying pan on low to medium heat, and add pressed garlic.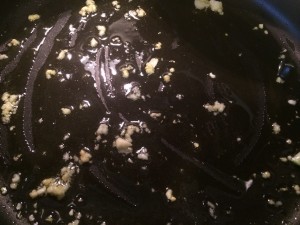 Add squash and zucchini, cook until slightly softened but still firm.
Add kale, basil and rosemary and coat with liquid.
Mix in tomatoes and heat through.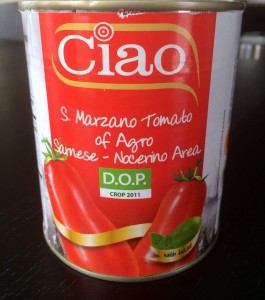 Cook pasta according to package in a separate pot of boiling water until al dente.
Add pasta to sauce and mix well.
Always top with fresh grated parmesan cheese.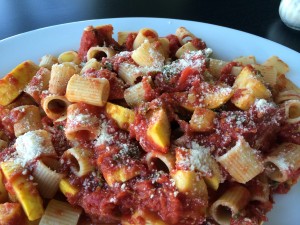 Want to add meat?
The addition of chopped bacon, italian sausage, or ham adds another layer of flavor! Experiment!
Enjoy this summer dish!
Ciao!