As an alternative to red meat/ground beef hamburgers, turkey burgers offer a different texture and flavor. However, turkey burgers need ingredients, seasoning, something. Ground turkey can be very bland even with traditional burger toppings. Mixing the flavor into the meat creates a juicy, flavorful bite!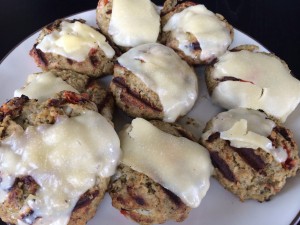 I made Ina Garten's pesto the other day- minus the walnuts, double the Parmesan cheese- it proved to be a great addition to turkey burgers!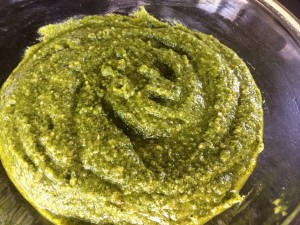 Here is the recipe:
http://www.foodnetwork.com/recipes/ina-garten/pesto-recipe.html
Pesto Turkey Burgers
Makes 8 burgers
Ingredients:
1-1/2 lb. ground white meat turkey
2 Roma tomatoes, chopped
1 small onion, finely chopped
2 eggs
1/2 cup Panko breadcrumbs
1/4 cup Ina Garten's pesto (minus the walnuts, double the parm)
2 tbsp. Parmesan cheese
Salt/pepper
Directions:
Preheat grill to 350 degrees.
Wash hands.
In a mixing bowl combine all ingredients and mix with hands until well blended.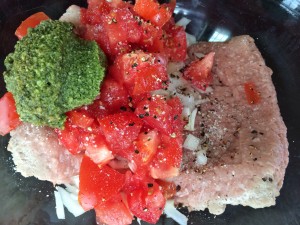 Mixture should be slightly sticky and able to hold form.
Make a burger patty by taking a small ball, flattening it and pressing the edges while turning until firm.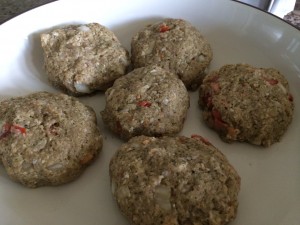 Grill the patties for 5 mins. Flip over and grill another 3-5 minutes or until the internal temperature reaches 165 degrees F.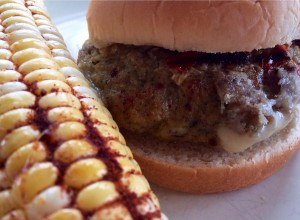 I topped the burgers with sliced fontina cheese for approximately one minute until melted, and served the burgers on wheat hamburger buns with our favorite burger toppings! The pesto was not overpowering, it was perfect!
Ciao!