NOLA On The Square, Pittsburgh's taste of New Orleans, is located in Downtown's quaint brick road Market Square. After a 6 month fire damage repair hiatus, NOLA reopened its doors today and we were thrilled to be a part of the excitement!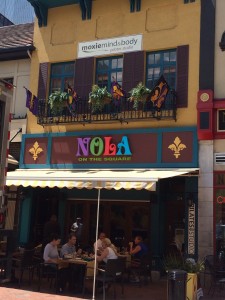 Keeping the menu favorites of old, NOLA has a few new surprises up their sleeve!
Flatbread pizzas topped with ricotta, a chicken panini, smoked tomato soup, and many more! Definitely some new menu offerings for those who don't care for a Creole/Cajun kick. I tried the Roast Beef "Debris" Po Boy for lunch.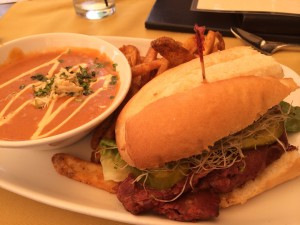 The roast beef is marinated with a New Orleans rub for 24 hours and it is served on a fresh, super soft Mancini's hoagie roll, and topped with pickles, sprouts, and horseradish aioli. The Mancini's roll made the sandwich for me! There is nothing worse than a sandwich with delicious ingredients served on a rock hard roll!
The kids and I sat outside and enjoyed people watching and the hum of the jazz music in the background. The servers were attentive and enjoyed the monkeys (I think). Unfortunately, we were never offered dessert! We definitely would have tried something sweet!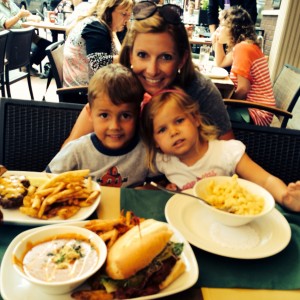 We are happy to have NOLA On The Square back in business and we can't wait to try something new next time!
Ciao!