Sometimes lettuce is overrated. Although I am a sucker for traditional leaf lettuce, spring mix, "rabbit food" salads, I always spice them up with fun toppings such as cranberry, pecans, and crumbled blue cheese. Need a salad change? Hold the lettuce!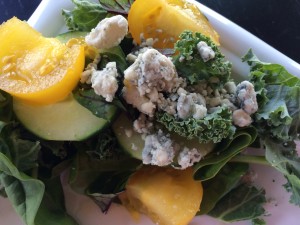 Perfect for entertaining, a veggie stack or veggie and cheese stack with a drizzle of olive oil and vinegar is easier to serve and easier for your guests to eat!
Did you know cutting salad greens is a major dining etiquette no no? Proper salad eating etiquette is to shove the leafy lettuce in your mouth and chew with puffed cheeks while spatters of sticky dressing cover your entire mouth area, cheeks, and probably make their way up a nostril or two. Sounds perfectly proper to me! This comes from the past when knives were made from steel or iron and could react with the vinegar from the dressing. Today, cutting huge pieces of lettuce is acceptable one piece at a time; however, chopping your entire salad is still frowned upon.
Etiquette expert Nancy R. Mitchell, The Etiquette Advocate, shows us how…

Here is a basic Caprese salad I love to serve because it looks beautiful and tastes delicious!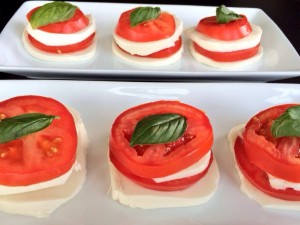 Tomato Mozzarella Caprese Salad
Makes 6 individual salads
Ingredients:
5 vine ripe tomatoes, slices 1/4 inch thick
1-1/2 lb. fresh mozzarella sliced 1/4 inch thick.
12 fresh basil leaves
Olive oil to drizzle
Course salt and pepper
Directions:
Layer the slices starting with the mozzarella, following with a tomato, and then a basil leaf.
Drizzle with olive oil and sprinkle with salt and pepper!
Enjoy!
Ciao!