Consignment stores are not really my thing. I'm not big on wearing a stranger's old shirt. But when over half of the items still have store tags, sign me up!!
I met Bethany, www.saltyblonde.com, at the Girls Night Out party at our local Clothes Mentor to check it out.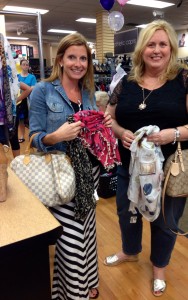 I was greeted at the door with a chance to win a coral leather $458 Coach bag. So I filled out the ticket and started shopping!
Our first stop was a scarf wall!
The shoes were at the top of all the clothes racks and most were brand new! Vera Bradley flip flops with tags were $14! Brand name clothing items from Ann Taylor, Banana Republic, JCrew, Splendid, Paper Denim Co, True Religion, JBrand and even Tory Burch were hanging everywhere!
Cindy Martin, Clothes Mentor franchise owner, explained that they are very picky when selecting items to resell, and buyers appreciate it!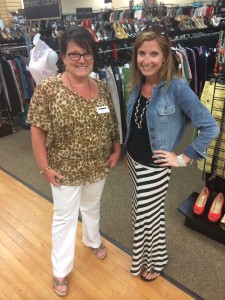 Cindy told me women love this store's cash at drop off policy , meaning a consignor doesn't wait for items to sell to get paid! Cindy explained that they accept all seasons all the time and items with store tags move quickly! Her Girls Night Out events have been a huge success.
Cindy offers customers an extra 20% off during GNO and a giveaway item of value!
While I was putting together an outfit I heard them announce the winner of the $458 Coach purse …it was me!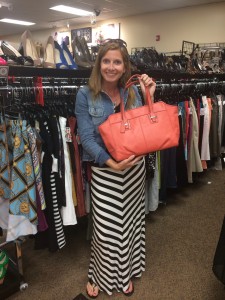 Here is the outfit I put together.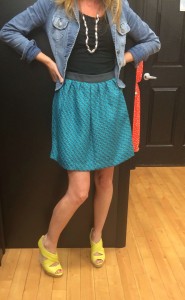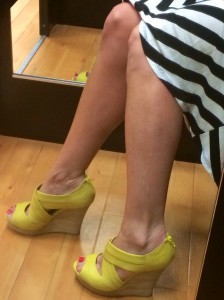 I will be taking a bin of clothing to Clothes Mentor soon to see how much money I am offered. Have you consigned clothing? Every been to a Clothes Mentor? I would love to hear about your experience!
Ciao!