Hola! We have just returned home from Riviera Maya, Mexico's Ocean Coral and Turquesa H10 Resort and Spa in Puerto Morelos! Wow!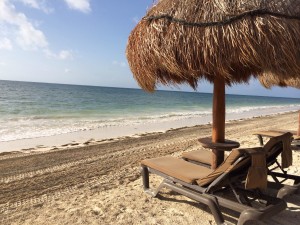 What an awesome trip! Great company, fabulous weather, and amazing authentic food!!  Don't let anyone tell you not to travel to Mexico because it is unsafe, you will get sick, or the food is bland. All not true, IF you spring for a great resort!
Kevin and I vacationed in Mexico 10 years ago and we were in the bathroom the ENTIRE trip, but we paid $600 each for the whole week all- inclusive with flights. Oops! We learned a valuable lesson on that trip and we laugh about it now!
One afternoon I had the pleasure of assisting the chefs who were making authentic Mexican guacamole! Here is the recipe!
Mexican Guacamole
Makes 12 servings
Ingredients:
6 Avocados- called aguacate in Mexico
3 Lemons, limon
4 Tomatoes, diced
1 medium onion, chopped
1 small Chile habanero- pepper
1 cup chopped Cilantro
1 cup pico de gallo
1/4 cup beer, Cervesa in Mexico
Salt and pepper- to taste
Directions:
Scoop out avocado and add to a large mixing bowl by cutting in half and pitting.
(Save avocado skins and pits.)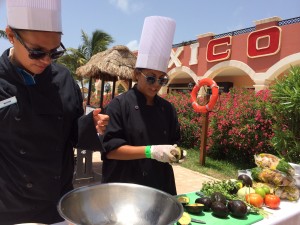 Add chopped tomatoes, onions, and cilantro.
Add pico de gallo.
Squeeze the lemons halved into bowl.
Mix well, smashing and smushing avocado.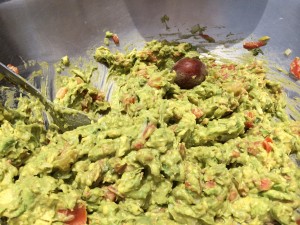 Add pico de gallo.
Add finely chopped chile or habanero pepper.
(Shave some lemon flesh from a squeezed lemon onto chopped pepper to mute the heat.)
Mix well.
Add beer and salt and pepper a few splashes/pinches at a time to taste.(The chef's "perfect consistency" was a bit runnier than I am used to. The addition of the beer maybe?)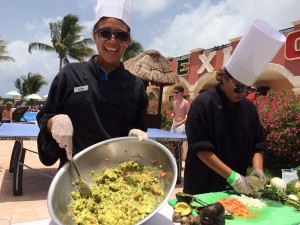 Mexican Guacamole Secrets Shhhhh…
1. Keep the pit and leave it in the bowl. It keeps the avocado from browning.
2. Keep the avocado shell/skins to use as cute serving pieces. They are the perfect size for guests to fill with chips or a scoop of guacamole!
3. Mexican chefs keep gum readily available to chew while chopping onions. No tears!
4. In Mexico, their limons are our lemons. Small but green and sweeter. Mexican limes are much bigger and more tart. The chefs I worked with only used the small ones for the guacamole, equivalent to American lemons.
5. Mexican chefs? sip tequila on the rocks not in drinks. (Not sure what this had to do with making guacamole, I forget.)
Ciao!