My grandma always has cookie sheets of hard bread in her oven. It's just the way it is and always has been for as long as I can remember at my grandparents' house.  Empty the oven before use or, as grandma says, "Oh my God, Oh my God," you might smell a little something burning!! Breadcrumbs are never on the grocery list.
Why do we buy breadcrumbs? If you are lucky, your store bought plain jane breadcrumbs contain less than 30 ingredients. 30??? Hmmmmm, basic bread contains flour, yeast, salt and sugar…ok that's 4?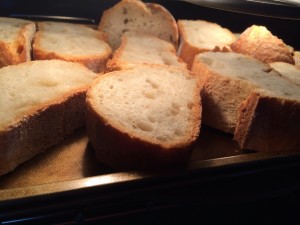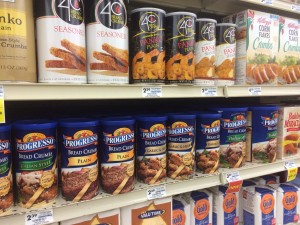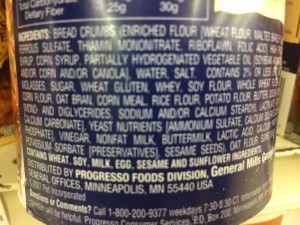 Mary Ann Esposito, creator and star of the best cooking show ever Ciao Italia ( I might be a superfan) posed this exact question on her blog and I had to ask her…what about Panko? See her blog and her response to me in the comments section…
http://www.ciaoitalia.com/mary-anns-blog/crumbs-matter
Mary Ann Esposito's Homemade BreadCrumbs
Stale days old or frozen country bread.
Bake in 300 degree oven until hard and brittle.
Roll with a rolling pin.
In a recent New York Times article "Left with the Crumbs? Lucky You," Melissa Clark discusses the importance of homemade breadcrumbs and her personal method! She uses a food processor to make very fine breadcrumbs. Do the breadcrumbs change the taste of the food? You bet!
http://mobile.nytimes.com/2014/04/23/dining/left-with-the-bread-crumbs-lucky-you.html?from=dining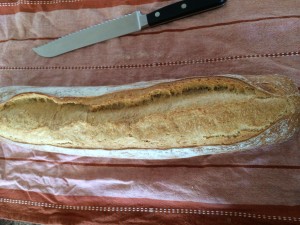 For starters, Throw your bread ends in a cloth on your counter or on a cookie sheet in your oven. Have a few ends? Bake them and have fresh breadcrumbs on hand! Experiment with different types of bread at different stages.
Experiment with flavors. Add dried oregano, thyme, basil, garlic powder.
Bread some chicken and taste test!
My favorite tasting breadcrumbs are made from slices of fresh bread baked until hard, and then ground. You lose the stale taste that we have become accustomed to with the preservatives added to processed breadcrumbs. They are more crisp and fresh!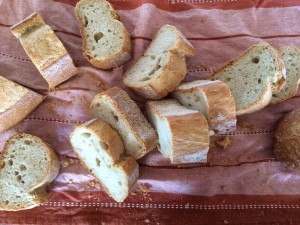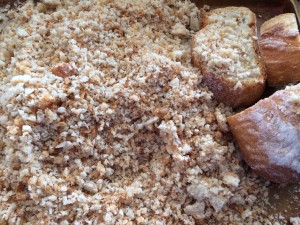 I realize daily how much I have learned from my grandma, and I am so grateful for the time I spent with her throughout my childhood. I wish we lived closer so my kids could have even more of her influence.
Enjoy!
Ciao!