I have almost achieved the impossible, but with temps dropping back down into the 30s tonight, I'm not so sure Bernardo will live much longer. Bernardo is my basil plant, that lived outside all summer and has died and risen on three separate occasions since September. (Even though his branches are black.) Hoping to nurse him back to his happy porch spot in the warm, partial sun, I have given him remnants of pressed garlic, the last drops in my wine glass, and of course,  sprayed his branches with vinegar. I have no "green thumb," but new shoots have shot and I have been harvesting fresh basil all winter!!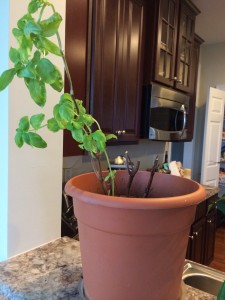 Panko Chicken Parmesan
Ingredients:
1-1/2 lb. boneless, skinless chicken breasts,split
1-1/2 cup Panko bread crumbs
1/3 cup freshly grated Parmesan cheese
1/2 tbsp. Rosemary
1/2 tbsp. Basil
1 tbsp. olive oil
2 cloves of garlic, pressed
Directions:
Preheat oven to 375 degrees!
Add pressed garlic to olive oil.
If 1-1/2-2 inch thick, butterfly chicken breasts to 3/4 inch thick.
Rub with olive oil and garlic.
Mix Panko bread crumbs, parmesan cheese and spices.
Lightly coat chicken breasts in bread crumb mixture.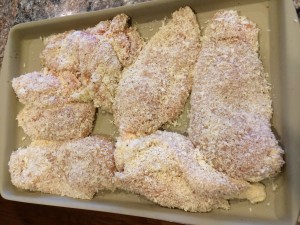 Place in stoneware baking dish, aluminum foiled jelly roll pan, or non-stick baking pan.
Bake for 40-50 minutes or until internal temperature reaches 165 degrees F (75 degrees C)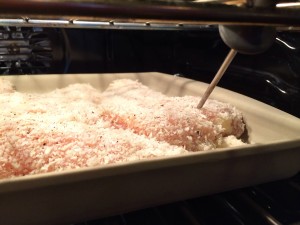 Broil for 5 minutes and watch closely to brown the top of the chicken!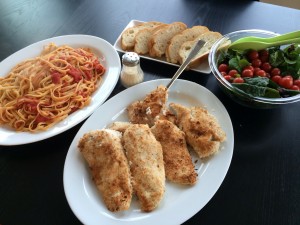 Always top with freshly grated Parmesan and Enjoy!
Ciao!