Ready to pull your hair out when you need to make cutout sugar cookies?? Take a deep breath, I have a never fail recipe and some great tips to ensure cookie success every time!! No tears! And they are delicious!!!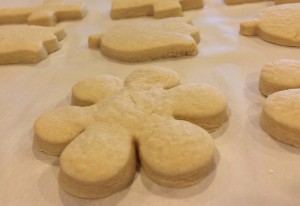 I am no cookie connoisseur, but I have learned a few tricks along the way that I wish someone would have told me!!!
#1 Always place cutouts on parchment paper lined cookie sheets!
This eliminates scraping cookies off of the sheet, breakage and bottom burning!
#2 Always set a cold cookie sheet on dough while you are working!
If the dough gets warm, it get sticky and sticks to the rolling pin and work surface. Not to mention, the cookies will not rise when baked!
#3 Always switch to the dough hook after creaming butter and sugar. The dough can bend or break your beater arm! It gets way to heavy!
#4 Always let the cookies cool before trying to use icing or decorate!
If the cookies are not completely cool the icing will run and waste your hard work! They will taste good, but look a mess!
Simply Super Sugar Cookies
Makes 3 dozen 2-1/2 inch cookies
Ingredients:
3 cups flour
3/4 tsp. baking powder
1/4 tsp. salt
1 cup unsalted butter
1 cup sugar
1 egg, beaten
1 tbsp. milk
1 cup powdered sugar for work area
Directions:
Preheat oven 350
Cream butter and sugar and beat until light and fluffy.
Add egg and milk, beat.
Sift together flour, baking powder and salt .
Mix on low dry mixture into bowl a little at a time.
Beat until it pulls away from bowl.
Refrigerate dough in 2 balls wrapped in waxed paper for 3-4 hours.
Brush rolling pin and work area with powdered sugar.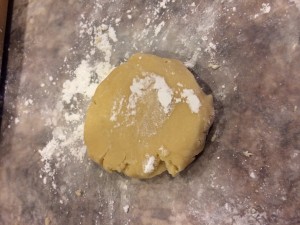 Roll out 6 inch ball into an oval 1/4 inch thick.
Cut with cookie cutters.
Place cutouts 1″ apart on parchment covered cookie sheets.
Bake 10-12 minutes or until edges are golden!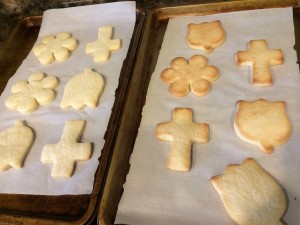 Let them cool 5 minutes on pan and transfer to cooling rack.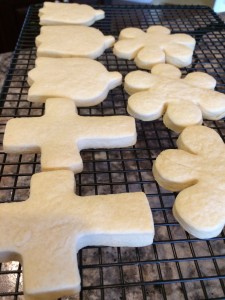 Decorating is a whole different post for sure! It can be a meticulous process! Making delicious cookies, is definitely the first priority. Use an easy cookie glaze or buy the squeeze bottle Wilton icing as a start!
Ciao!