My backyard was filled with goats, pigs, sheep, a miniature pony, a puppy, a llama and kittens. My kitchen was filled with chicken fingers, pasta, lasagna, meatballs, potato salad, baked beans, fruit salad, Caesar salad, Mexican dip, various appetizers and desserts. Overboard,  you think? The animals?? No way! The food?? Oh Yes!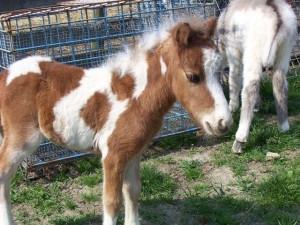 We bottle fed the babies!!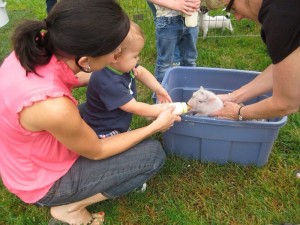 The On the Farm theme was a blast to plan and so easy using Oriental Trading! I ordered everything from their massive barnyard theme party arsenal! A personalized banner, #1 red balloons, tablecloths, paper products, cups, even a helium tank! The favors were Oriental Trading plastic cow cups and straws and a barn favor box filled with farm animal water squirties, crayons, coloring books and whistles! I still buy odds and ends from Oriental Trading. Lately, I have been finding really cool homemade decorations, favors and invites on Etsy!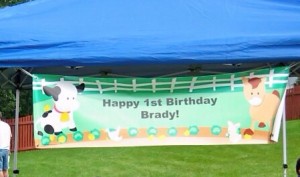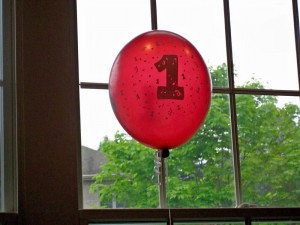 So let's talk food! I used to cook 6-8 dishes for a party this size! Why? Because my mother always had the same full spread- 2 or 3 long folding tables filled with food!!
I have learned to focus on a menu theme and stick with it! Have your menu make sense. Save yourself a ton of work!  Here are some fast and easy kids party food menus…
Lunch theme– sandwich rings, 2 cold salads (potato salad and coleslaw) and chips!
Pasta theme– pasta bar, meatballs or sausage, a garden salad and bread with butter
Mexican theme– taco bar, tortilla chips, salsa and guacamole!
Pizza theme– pizzas, salad bar and fruit!
You get the idea!
Changing my party menu mindset has simplified the prep work and lowered my stress levels, leaving me countless additional hours to spend hanging paper tissue balls and front door signs to making theme decorated sugar cookies!! I love it all and wouldn't trade my kids elaborate, exciting, entertaining, extraordinary parties for anything in the world!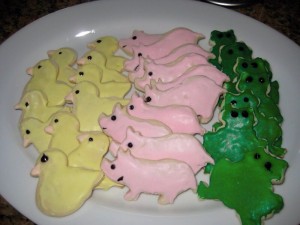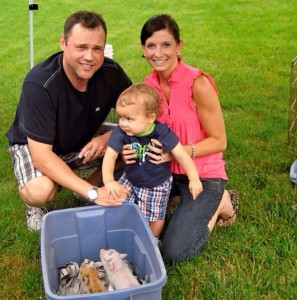 Coming soon! Mickey Mouse 2nd, Superhero 3rd Easter Egg 4th- Abby Cadabby 1st, Hello Kitty 2nd!
This year…they say they are twins! (2 years and one month apart) They love each other so much and want a joint party! Phew!  One party this year!  I'm busy planning and can't wait to share my ideas with you!
Ciao!