The term "superfood" is used by nutritionists, doctors and scientists to describe foods with extremely high nutritional benefits and obvious disease fighting chemical properties. Dr. Oz is pretty convincing in his arguments promoting superfoods for anti-aging, anti-inflammatory, cancer fighting, cancer prevention and the overall health of our bodies' systems!
Some of Dr. Oz's favorites:
Sweet potatoes
Kale
Black soy beans
Quinoa
Red wine
In our crazy busy worlds, let's try to add some superfoods a few times each week. Ever heard of chia?? It can add 10+ years to your life! Look for plenty of chia recipes coming soon!!!! All I need to hear is anti-aging, cancer preventing and red wine and I'm in!!
So Here it is:
Superfood Quinoa Crockpot Stuffed Peppers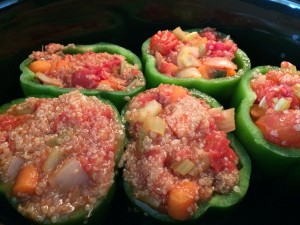 Ingredients:
5-6 whole peppers- hollowed out and de-seeded with the tops cut of (see photo)
2tbsp. Olive oil
2 cloves garlic pressed
1 small onion chopped
5 carrots peeled and chopped
3 celery stalks chopped
1/3 cup chopped spinach
1 35oz can San Marzano tomatoes
1-1/2 cups quinoa- cooked
2tsp. of Salt/pepper/sage
freshly grated Parmesan cheese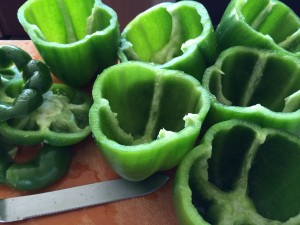 Directions:
Cook quinoa according to package -3 cups water cook until tender,quinoa will absorb water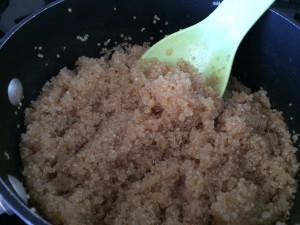 Meanwhile,
Add olive oil to frying pan on medium heat and add garlic
Add carrots, celery, and onion and cook 5-10 minutes
Add can of tomatoes.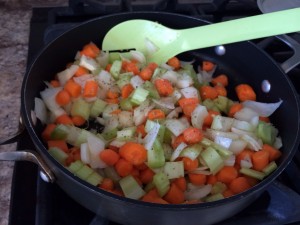 Let it cook another 10 minutes
Add chopped spinach last
In a large mixing bowl, add quinoa to veggies and stir until blended.
Carefully spoon mixture into peppers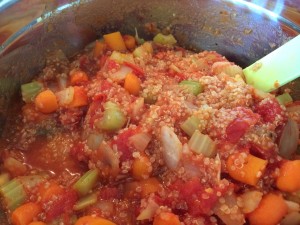 Add 2 cups of water to crockpot.
Set peppers in crockpot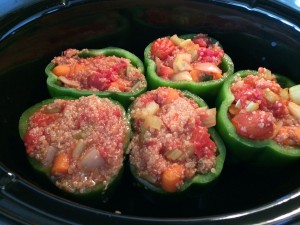 Cook on low for 3-4 hours
**Careful not to overcook the peppers!! You cannot cook them all day in the crockpot or you will end up with Quinoa Stuffed Pepper Soup!!**
Serve with a simple salad.
Always top off with freshly grated parmesan!! Enjoy!