Happy St.Patrick's Day!!
Surprise your family with a Quick and Easy Shepherd's Pie!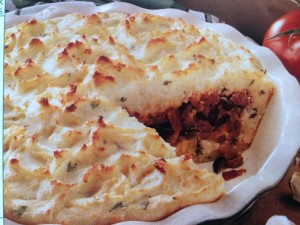 In crockpot:
1lb. Ground beef
1 small onion
2cloves of garlic chopped
4strips bacon chopped
1/2 cup tomato sauce
1/2 cup water
Salt and pepper
Let this cook 4-6 hours
30 mins before dinner,
51/2 cups Mashed potatoes (without milk and butter)
2 eggs
Pinch of Salt
Spread mashed potatoes in a greased pie plate bottom and sides.
Layer with the drained beef mixture and then top with more potatoes.
Brush pie with melted butter
Bake at. 375 for 20 mins!
Enjoy!
Ciao!