Get home at 5 and have nothing prepared for dinner? We are all there multiple times per week! Relax, my 20 minute pasta dish is healthy, easy and quick!! Best part…It looks like you have cooked all day!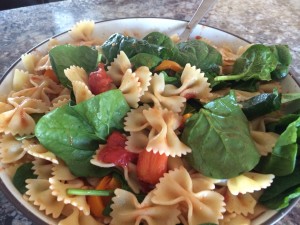 20 Min.Gourmet Pasta in Pan Sauce
Ingredients:
2 cloves of garlic presses
2 tbsp olive oil
1 35 oz. can LaValle whole tomatoes
Salt/pepper
Choose what you have in the fridge! If none – move on there is nothing wrong with a pan marinara sauce! Today, I have a pepper and a bag of spinach.
1 pepper chopped
1 cup fresh spinach
1 pack Mushrooms sliced
1/2 cup Italian olives sliced
1 zucchini sliced
1/2 cup Pepperoni
Etc.
1 lb. of your favorite pasta- farfalle for us today!
Freshly grated Parmesan
Directions:
Put hot water in a stock pot on the stove, add 3 pinches of salt and bring to a boil.
Heat your largest frying pan on medium/low heat.
Add olive oil
Add garlic
Stir with wooden spoon- remember no brown- if it is crackling it is too hot!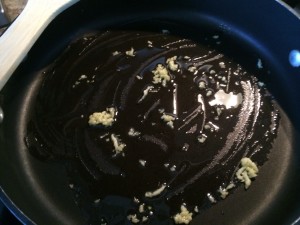 Add peppers (raw veggies) put a lid on and cook 5 mins.
Add can of tomatoes.
Salt and pepper
Put a lid on and let it cook. Totally fine to boil and bubble. You want to quickly cook the veggies and let the flavors mix together.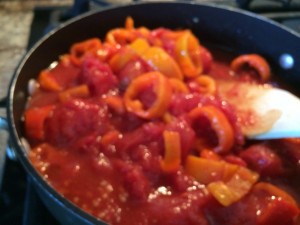 When water is at a rapid boil add pasta and follow directions and cook until al dente. Perfectly chewy!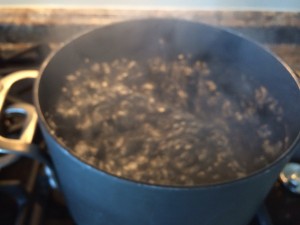 Strain pasta in a strainer over the sink. Take advantage of the pore opening steam facial!!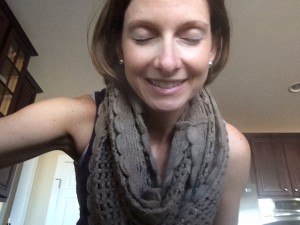 Add a few spoonfuls of sauce in a serving bowl and coat pasta so it doesn't stick. Mix in spinach last!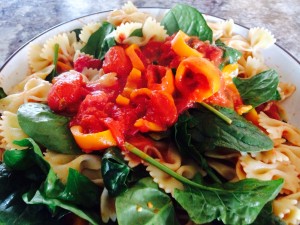 Serve with a nice ciabatta! I happened to have one in the freezer! OR Make a quick garlic toast in your toaster! Toast bread, butter it and sprinkle on garlic salt and Italian seasoning!