I love to use my crockpot! It is an amazing feeling to have dinner cooking by 9am! Start early in the morning, throw everything in and it is ready by dinner time! We are never home during the day, so I feel comfortable leaving the crockpot cooking!!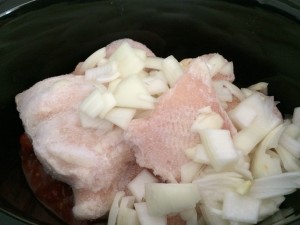 Don't have every ingredient when you start? No problem! Neither do I most of the time! Just start with your base and your meat and get it cooking! We cannot stand mushy overcooked veggies in this house, so it is better to add the fresh veggies later! Add them at 4 when you get home and dinner is ready by 5:30!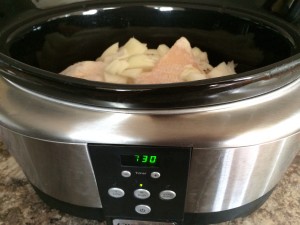 Crockpot Chicken Tacos
Ingredients:
Crockpot
1-2 lb.boneless skinless chicken breasts- frozen or fresh!
1 cup salsa
1/4 cup taco seasoning
1 onion chopped
1 pepper chopped
1 22oz. can diced tomatoes
1 14oz. can black beans
Non Crockpot ingredients:
10 Taco shells soft/hard
1 c.Shredded iceberg lettuce
1/2 c.Shredded Mexican cheese
1/2 c.Diced tomatoes
Sour cream
Recipe:
Put salsa, diced tomatoes, chicken chopped onions and taco seasoning in crockpot.
Set time for 6 hours on high.
Add peppers, black beans and all other crockpot ingredients in last 1-2 hours.
Let cook.
Serve in shells with your favorite toppings!
Feel free to add hot salsa, hot sauce or Cayenne pepper to make it spicy!
Enjoy!