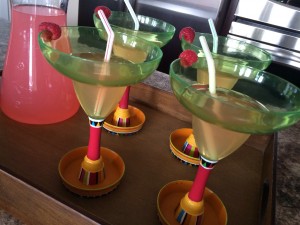 Did I mention I also nanny?  On an Extreme part time basis I have 4 preschoolers!!! One of my passions is creating imaginative worlds of fun and learning! I love a good theme and go nuts with decor, crafts and food!!(You will totally understand when you see my ideas for kids' birthday parties!)
So today our theme from Frozen, of course, is In summer!!! We did ocean adventure crafts- learned that octo means 8 and made an octopus!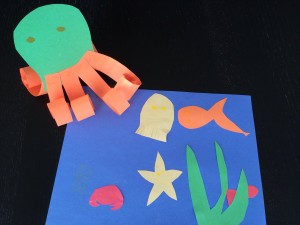 I always dig out the water table! Fill it up in the bathroom so cleanup is super easy!! Use bath toys or get out the summer outdoor tote! For fun we wear bathing suits and get out our beach towels and sunglasses!

In Summer lunch menu….
Peanut Butter and Nutella roll- ups made with wheat sandwich thins
Fruit Salad
At snack time, I made a raspberry lemonade and served it in margarita glasses! A total hit! The kids thought it was totally rad! We also made Olaf inspired treats with marshmallows, pretzel sticks and raisins!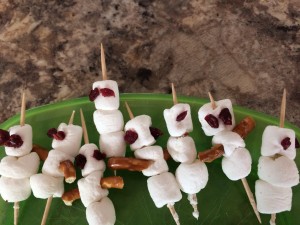 Of course we blasted songs from Frozen and sang along!!