Hello World!! All women need a great handbag, a great pair of pumps, and a phenomenal sauce! A delicious, super easy sauce is the key to happy stress- free entertaining! Start the sauce in the morning, boil some pasta, make a salad, pick up a loaf of fresh ciabatta and Voila! After realizing that my grandma's sauce is impossible to replicate, I decided to make my own! I stripped it down and learned from countless episodes of "sauces gone wild."
I realized I was burning my garlic! Pitch it and start over if this happens because it totally ruins the taste! No brown! I always use San Marzano tomatoes. Why? Their taste is absolutely incredible! The low acidity gives you a bold, rich flavor as opposed to a sour tasting sauce.  Red Pack will not cut it, the extra $2 is so worth it!!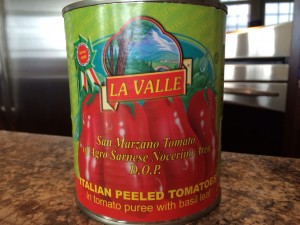 www.pennmac.com

I love the selection of tomatoes at Pennsylvania Macaroni  (you will find I get all of my fresh ingredients here) located in Pittsburgh's Strip District! Or online!

So here is the most basic (still totally delicious) recipe:

Ingredients: 2cloves of garlic chopped 2tbsp olive oil 1/2 onion chopped 2 cans of whole peeled San Marzano tomatoes 1 can tomato paste 1 can water 4-5 basil leaves chopped Salt/pepper   Directions: Heat oil in a frying pan on medium heat add onions and sauté Add garlic and press with a wooden spoon to release flavors Cover pan with basil, ground pepper and sprinkle with salt. Add 2 cans of tomatoes, 1 can tomato paste and 1 can of water to a stock pot and stir well Add contents from frying pan Cook on low- medium heat covered with the lid slightly propped.  

Cook a pound of pasta. Add one spoon of sauce to serving bowl and coat to avoid pasta sticking together!

Always top off with freshly grated Parmesan!! Enjoy!